Playing chamber music with your colleagues is not only socially and musically fun, it helps bonding sectional playing as well. Once the section is strong and everybody know their respective duties, it only helps each member to become stronger both as a group and an individual.
Berlin Philharmonic Horns
and its
Four Corners
was a good example of a group of horn quartet that came out of an orchestra (from Berlin Philharmonic Orchestra of course).
Budapest Festival Horn Quartet
consists of four horn members of
Budapest Festival Orchestra
in Hungary. Founded in around 1983 by Ivan Fischer, the orchestra comprises of young and upcoming musicians in Hungary. Since then, they have become one of the world sought after orchestra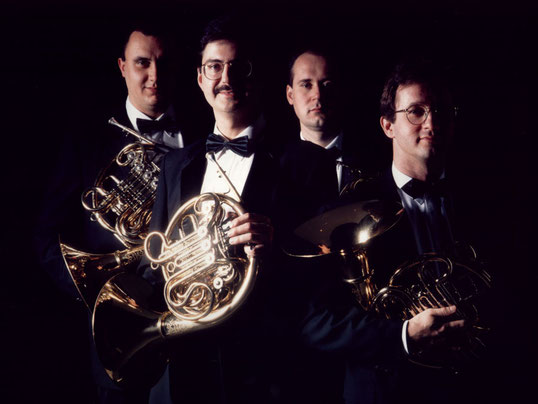 Budapest Festival Horn Quartet members are from the Festival Orchestra led by
Miklos Nagy
who is the principal horn of both the Festival Orchestra, and the Luxembourg Philharmonic Orchestra.
According to
Nagy
(click
HERE
to read Nagy's interview), the inspiration of this ensemble was after they had heard
American Horn Quartet
in Barcs competition. They were very active during mid 90's up until around 2010 in which they released
two CDs
. There are some distinct styles in their playing which separate them from the
American Horn Quartet
. They are also technically amazing and can play everything with ease.
Explore their YouTube channel
HERE
for some more amazing playing!